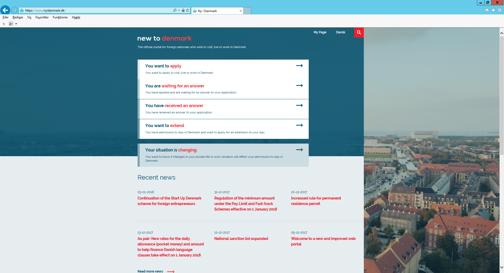 02.02.2018
New Look and New Design for www.newtodenmark.dk
The official website portal for the two Danish immigration authorities has now been updated with a new look and design, for more information see their newsletter. The site is now more interactive and the menues and options are designed according to the situation of the visitor, eg. the applicant.
The whole site is now built upon five different situations for the visitor or the applicant. Although, there still is the option of a main search in the top right corner, as well as a list of Words and Concepts, including an overview of forms. The menus and options change depending on, if you want to apply, if you are waiting for an answer, if you have received an answer, if you want to extend, or if your situation has changed.
Make sure that you press "show more" further down below on the menu screen for options regarding stays and permits for the Faroe Islands and Greenland. Then you can choose information for the Faroe Islands only.